Books and Chapbooks
I am the author of three full-length short story collections.
You Might Forget the Sky was Ever Blue (2019) includes stories about third grade teacher in Baltimore trying to make sense of the 2016 election campaign to students, a teenage sexual assault survivor making his way through a changed world, and a boy is raised to believe he's Hulk Hogan's little brother. This book includes experiments in form with a social conscience, including work originally published in Hobart, Iron Horse Literary Review, Bayou Magazine, Front Porch, Waccamaw, Prime Number Magazine, Drunk Monkeys, Random Sample Review, and Extract[s]. It will be published by Duck Lake Books.
You can read my guest blog post about the book at Orson's Review as well as interviews centered on it at Cease, Cows and Longridge Review.
Pre-orders are available now from the publisher, Amazon, and Barnes & Noble.
Read what Kirkus Reviews has to say about the book here.
Circus Folk (forthcoming, November 2019) includes linked stories about a self-trained lion tamer., a trapeze artist who falls to her death every night, conjoined twins and the lost love of their lives, and three bearded ladies who converge on the same traveling show. This full-length collection of linked stories explores the inner lives and origins of circus performers, including forays into the speculative and surreal in work originally published with Sequestum, Flapperhouse, Spry Literary Journal, Twisted Vine Literary Arts Journal, Five 2 One Magazine, and others. It will be published by Hoot 'n' Waddle.
Read what Kirkus Reviews has to say about the book here.
You can read an interview about the book at Twist in Time Literary Magazine.
The Long Way Home (forthcoming, 2020) tells stories of grapplers and ghosts, a cowboy and a tigress. devoted fans, family, lovers, and Andre the Giant's bastard daughter. This full-length collection explores stories from the world of professional wrestling that walk a razor's edge between fact and fiction, the world we know and its underbelly. Featuring work originally published in Passages North, Shenandoah, Gravel, Cherry Tree, Miracle Monocle, and others, the collection approaches a world of violence with a sensitive, but incisive eye toward what makes us all human. It will be published by Cowboy Jamboree Press.
I am the author of three chapbooks.
Autopsy and Everything After (2019) is a collection of flash fiction chronicling the journeys of a professional wrestler, with the occasional foray into the supernatural. This chapbook won The Florida Review's Jeanne Leiby Chapbook Contest (2017-2018).
It is available from The Florida Review. (I expect it will be on sale online from them soon; while my stock lasts, I'm also selling copies for $10—use the info on my contact page to reach out if you'd like to buy a copy directly from me.)
Distance Traveled (2018) is a hybrid chapbook in which prose poems ostensibly centered on basketball craft a novella about aging, divorce, friendship, and a cross-country road trip.
It is available now from Bent Window Books.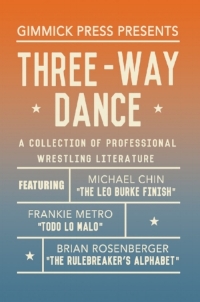 The Leo Burke Finish (2017) is a hybrid chapbook, featuring twenty-three prose poems and a lyric essay that explore professional wrestling and its intersections with my own life and our larger contemporary culture.
The work is published alongside writings from Frankie Metro and Brian Rosenberger for a project called The Three-Way Dance from Gimmick Press.
It's available now via The Gimmick Press Store and Amazon.